The Finest Instruction
The Starchevski School of Ballet was founded in 1992 with the goal of helping young dancers develop their potential in dance and perform in dance productions.
The Academy founders, Kristof Star and Hanna Starczewski have both performed internationally as Principal and Soloist dancers while members of respected dance companies. The Starczewskis have a deep love and appreciation for the discipline, resulting in quality instruction rarely found outside of Europe. Their extensive international performing and teaching backgrounds have led to many of their students being accepting into professional companies.

Kristof Star, Artistic Director
Artistic Director, teacher, former principal dancer. Mr. Star is a graduate from the State Ballet School in Gdansk, Poland and is former dancer of Alberta Ballet, Ballet Austin in Texas, Grand Theater of Lodz and Polish Dance Theater of Conrad Drzewiecki in Poznan, Poland. During the course of his international career, he has performed throughout many worldwide centers including New York, Warsaw, Amsterdam, Stuttgart, Lyon, Moscow and Toronto to name a few. He worked with Conrad Drzewiecki, Brigit Culberg, Irena Fokina, Adam Hanuszkiewicz, Irina Kolpakova, Lambros Lambrou, Brian Macdonald, Ali Pourrfarokh, John Taras, Gray Veredon and Ewa Wycichowska among others. Mr. Starczewski has taught dance internationally in National Ballet School of Poland, Ballet Austin Texas, University of Calgary, Calgary Opera and Starchevski School of Ballet

Hanna Starczewski, M.A., RAD.
Ms. Starchevski obtained her Master Degree in Dance Pedagogy from the prestigis University of Frideric Chopin in Warsaw. Ms. Starczevski was a professional dancer and soloist for 15 years and is also a Professor of Dance, choreographer and a member of Royal Academy of Dancing. She had her early dance training at the National Ballet School of Poland, and then she joined the Poznan Opera-Ballet House and Grand Theater in Lodz. After becoming a dance professor at the National Ballet School of Poland Ms. Starczewski, together with her husband, has dedicated her professional experience to conduct a ballet school in Calgary, the Starchevski School of Ballet Inc.
Sabina Zhetpissova Ballet, DSS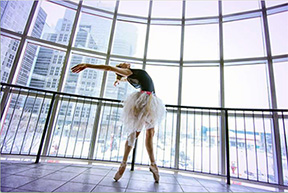 Ms Sabina originally trained in Kazahstan (former Russia) in Vaganova style has great appreciation for details in every movement. While dancing she also found the time to finish her Bachelor's of Master degree in English philology. Ms. Sabina danced in Europe until she gave birth to her son. As mother she dedicated herself completely to her son and later she has resume dancing in Canada. She currently perform in such classical ballets as The Nutcracker and Coppelia. Her dedication to teaching, dancing and to children it is an asset to Starchevski School of Ballet.

Francesca Ambrosino, Ballet
This is the fourth season of Ms. Francesca at our school as a ballet teacher. Before teaching Franceska Ambrosino graduated from the Starchevski School of Ballet, where she studied ballet and character dance under the guidance of Mr. and Mrs Starczewski. Ms Franceska is very dedicated, responsible and passionate about teaching. We are very confident about her professional approach to the students and we are looking forward to have Ms Franceska as our faculty member in this season.
Rachael Harper
Currently preforming under Victoria Dance Theatre Company. Ms. Rachel is graduate from Victoria Academy of Ballet in Victoria BC with merit scholarship. She study ballet under the guidance of well known teachers in Canada and US. She also study various ballet programs at Royal Winnipeg School of Ballet, School of Alberta Ballet, Cecchetti International Ballet Competition and Joffrey Ballet School in US. Ms. Rachael also emphasis in textile creation and design, and fine arts drawing. We looking forward to work with Ms. Rachael as our dance teacher.