The Finest Instruction
The Starchevski School of Ballet was founded in 1992 with the goal of helping young dancers develop their potential in dance and perform in dance productions.
The Academy founders, Kristof Star and Hanna Starczewski have both performed internationally as Principal and Soloist dancers while members of respected dance companies. The Starczewskis have a deep love and appreciation for the discipline, resulting in quality instruction rarely found outside of Europe. Their extensive international performing and teaching backgrounds have led to many of their students being accepting into professional companies.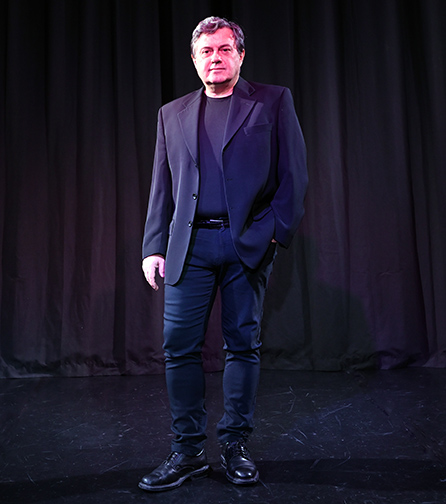 Kristof Star, Artistic Director
Director, teacher, former principal dancer. Mr. Star is a graduate from the State Ballet School in Gdansk, Poland and is former dancer of Alberta Ballet, Ballet Austin in Texas, Grand Theater of Lodz and Polish Dance Theater of Conrad Drzewiecki in Poznan, Poland. During the course of his international career, he has performed throughout many worldwide centers including New York, Warsaw, Amsterdam, Stuttgart, Lyon, Moscow and Toronto to name a few. He worked with Mario Bernardi, Conrad Drzewiecki, Brigit Culberg, Adam Hanuszkiewicz, Irina Kolpakova, Lambros Lambrou, Ali Pourrfarokh, Gray Veredon and Ewa Wycichowska among others. Mr. Star has taught dance internationally in National Ballet School of Poland, Ballet Austin Texas, University of Calgary, Calgary Opera and Starchevski School of Ballet

Hanna Starczewski, M.A., RAD.
Ms. Starchevski obtained her Master Degree in Dance Pedagogy from the prestiges program at University of Frederic Chopin in Warsaw, Poland. Ms. Starczevski was a professional dancer and soloist for 15 years and is also a Professor of Dance, choreographer and a member of Royal Academy of Dancing. She had her early dance training at State Ballet School in Bytom, Poland, and then she joined the Poznan Opera/Ballet House and Grand Theater in Lodz. . After becoming a dance professor at the National Ballet School of Poland Ms. Starczewski, together with her husband, has dedicated her professional experience to conduct a ballet school in Calgary, the Starchevski School of Ballet Inc.
Paytan Tatoulis, Ballet Teacher
Paytan started dancing at Starchevski's School of Ballet at the age of three and has performed multiple roles in each of Starchevski's fall and spring productions for the past 15 years. Building relationships through her dance and teaching, her commitment to the school as an assistant teacher for the young students and one on one instruction, Paytans passion for the art of ballet is evident through her skills and committment. Her joy for dance and classical music will continue as she starts to attend the University of Calgary in the fall of 2022 and continue dancing and teaching classes at Starchevskis School of Ballet. 
Rosalyn Chan, RAD Ballet Teacher
Rosalyn started ballet in Hong Kong at the age of 5, trained in Royal Academy of Dancing syllabus achieved RAD Advanced Foundation. She started her teaching since 2017 and she found it satisfying when seeing students growth and improvement. She believes that Ballet is all about technique, gracefulness and expression. She just relocated from Hong Kong to Calgary in July 2022 and she will join Starchevski School of Ballet in 2023/24 dance seazon.
Alison Halyk, Ballet Teacher
Alison began dancing at Sitter School of Dance in Saskatoon, studying various disciplines including ballet, character, tap, jazz, musical theatre, lyrical, and hip hop. She believes ballet forms a strong foundation for all types of dance and progressed to advanced level ballet in the Royal Academy of Dance Syllabus. She was accepted to the Royal Winnipeg Ballet summer school division and danced various children's roles in Alberta Ballet's The Nutcracker.  Alison knows firsthand the benefits of life-long ballet dancing. She believes in instilling a love of movement and musical expression at a young age and enjoys watching her students discover their love of ballet. 

Breanna Morgan, Ballet Teacher
Breanna has been dancing for 15 years and started at Starchevski School of Ballet at the age of 15. She has performed solo and group variations in many Starchevki productions. Breanna has also danced a variety of children and teen roles with the travelling troop of the Moscow Ballet's Grate Russian Nutcracker. She believes that ballet is a grate outlet for artistic expression and as an escape from external stress. At Starchevski, Breanna is a part of the advanced class and is teaching the Teen/Adult Ballet.

Alisa Guri, Ballet Teacher
Alisa has been dancing with Starchevski School of Ballet for 12 years and has performed various roles in many Starchevski productions. She believes that ballet is a beautiful form of self-expression, and her passion for the art is evident. Alisa is continuing her love for dance as she attends the University of Calgary while being part of the Intermediate/Advanced class and teaching Rising Stars ballet.